(

quietprofanity
Feb. 16th, 2009
11:50 pm
)
I read another Mr. A story and I feel the need to share it with you all. I want to say something like I did not know it could get crazier than that last story, but I always had the SUSPICION it could get crazier, because "Count Rogue" was far crazier than "Money" which was a bit crazier than "Angel" so it's not as if this isn't a trend.
This new Mr. A story, however, has what is pretty much the BEST. PANEL. EVER. I love it so much. I love Ditko for creating it. I even love Ayn Rand for being responsible for it coming into existance. I LOVE IT.
Maybe I have a heightened sensitivity given that I just got laid off and am kind of bummed out in general.
I mean, I cried during Coraline last night. Really.
But this panel just leaves me in hysterics. I just can't think of anything better than Mr. A -- even a FAKE Mr. A -- fucking charging into the window of a cafe with torches that look like Q-tips and saying ... well, that. I'm kind of laughing at it right now.
But let's make this scientific. Let me check the last thing I declared the best panel ever.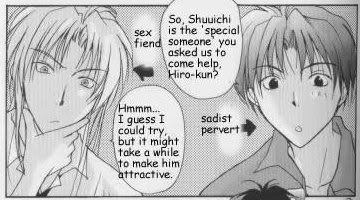 Nope, sorry. Looks like we've got a new champion.
Okay, basically here's the story: The United Nations is bad because it tries to work with dictatorships and bad guys, which is evil appeasement. To prove the United Nations is bad, Steve Ditko will tell the story of why people whose businesses get robbed/trash by Fake Mr. As should not try to solve the problem by joining the Chamber of Commerce WITH RACKETEERS.
Look, I don't know.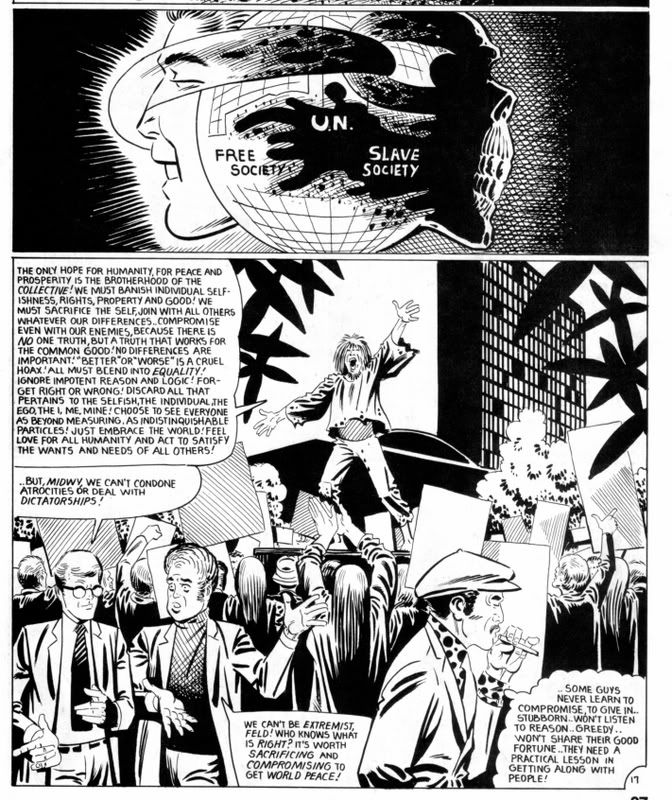 If you think reading that is painful, I'm going to sic "The Avenging World" on you guys. You will CRY.
Anyway, there are these two bad guys, Bez and Rak, and they want to have hatesex.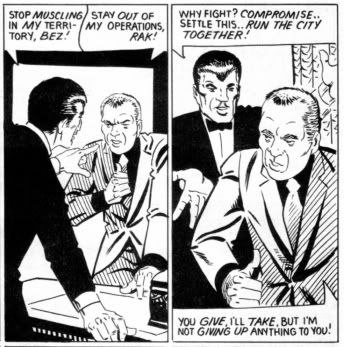 And then ... Mr. A comes to see him and forces Rak to ruin his party place of sin or whatever. And then he takes pictures. Anyway ... yeah, kinky.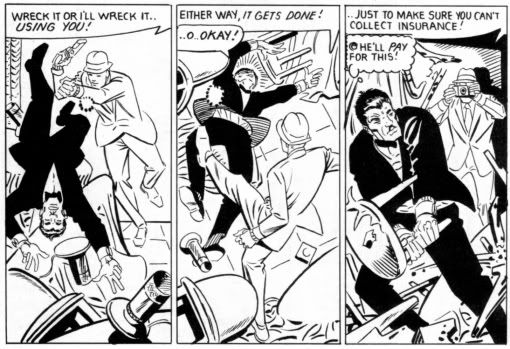 Bez is super-happy, even if he's only under suspicion of the police.
This is for

sandoz_iscariot
, by the way, as she mentioned the bad dialogue.
But Rak decides he need to get revenge, so he sets up a fake Mr. A to kick his ass.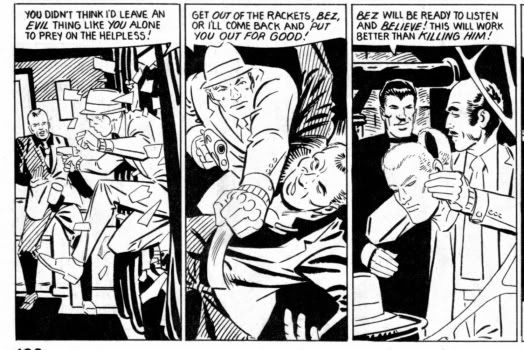 Meanwhile, Senator Kud from the last story is on a love-fest for the U.N.
Okay, I pretty much just posted that for the guy in the last panel's really stupid hat. Also, while I'm on the subject, yeesh Kud has some bad hair. Ditko really seems to love bad hair. I mean, a guy has a poofier version of the Osborn cut later in this story. Yet in retrospect we were kind of lucky. COULD YOU GUYS IMAGINE A GREEN GOBLIN WITH THAT HAIR? Horrifying.
Anyway Graine, being the killjoy of the Planet Nimrod, is not taking this bullshit and goes on the TV to talk about this at length. Pretty much like in the last story, no one listens to a thing Rex Graine says, yet everyone watches him in horror and insists on taking his crazy ass off the air. Also, Dr. Claw won't let that happen, yadda yadda yadda ... Meanwhile, one of the bad guys is sicing a fake Mr. A on the other bad guy and the first bad guy might be doing that and a fake Mr. A is also terrorizing local businesses and ... um ...
This picks up, I promise. It really does. At least I think it does. What happens?
Awwwww yeah.
Okay, so the public gets wind of this and turns against Mr. A.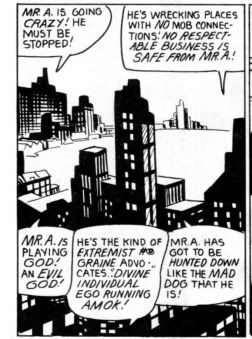 Ditko uses that way of telling the story a LOT.
Graine tries to defend the innocence of Mr. A, but he kind of loses the plot a bit.
Everyone loses their shit AGAIN. And then they go to Dr. Claw to ask him to stop it AGAIN.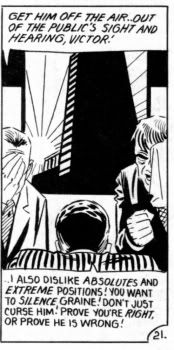 I actually really like Dr. Claw in a non-ironic manner. I'm not sure if Steve Ditko thinks he's good or evil. Probably evil, given his striped suit, but he has journalistic integrity. Or at least he talks like someone with journalistic integrity. His actual output on his television basically seems to be TALKING HEAD PUNDITS ALL THE TIME, with Graine The Objectivist and Twilight Vampire The Guy Who Hates That Fucking Objectivist.
Anyway, it turns out terrorism tends to kind of piss off the local business owners, so they all get together with the mayor and the senator and decide to create a whole group for the sole purpose of getting rid of Mr. A. They're so dedicated to this idea they will, like I said, use our hatesex bad guys to achieve it.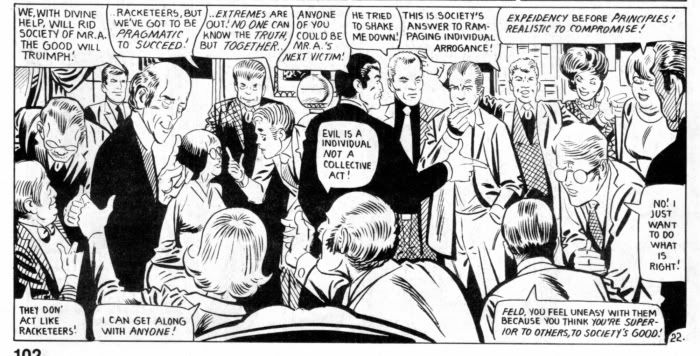 I went to a Chamber of Commerce mixer once. It was kind of like this except people didn't use so many polysyllables and they exchanged a lot of business cards and ate a lot of hors d'oeuvres and occasionally got drunk and tried to hug me. Actually, it wasn't like this at all. Never mind.
There's two important people in that panel. One is Feld, the only guy who thinks maybe the idea of teaming up with the bad guys isn't so great. The other is the Priest, who is my favorite minor character. Part of it is because his dialogue is hilarious ("Mr. A acts like a God ... an EVIL God.") Part of it is his pointy-chin character design. Most of it is because of this panel.
Yes, that just happened.
The fake!Mr. A ... beats up a shitload of business people and eventually gets down to Feld.
Graine, who had hoped to dismantle his Hate Club by talking to Feld, manages to see Fake Mr. A leaving, though, which actually leads to a really good fight scene.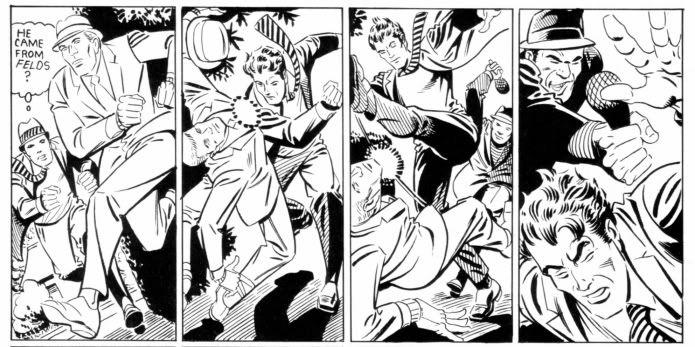 Alas, Graine loses. And then comes my least favorite panel in the story.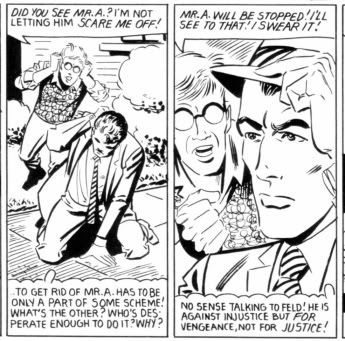 I don't often get annoyed at this story's politics. I mean, I think they're wrong but they're presented in such a bone-headed yet sincere way I can't exactly get offended. But this annoyed me because on what business does Graine make the claim that Feld doesn't believe in justice? A guy who looked like Mr. A busted into his house, beat him up, slapped his wife in the face and, while his child wasn't there at the time, the fake Mr. A could have endangered him. Why shouldn't he be super-fucking pissed and what the guy who hurt his family behind bars? From all the evidence he's seen and, hey, for his OWN WELFARE AND HAPPINESS Mr. A is a threat. But because he doesn't have the magic ability to know the real Mr. A from the fake one Feld sucks.
I just ... blech. You know, I remember trying to explain to my brother what I knew about Objectivism, especially regarding the ideas of superiority and your happiness being paramount and his response was, "How can you make a person like that a superhero?" Mr. A kind of proves that the answer to that is you have to see your job ONLY in the context of getting bad guys and the innocent people who might be victimized are just the perks. The perks -- not the point. And that IS totally at odds with what Superman is like, what Wonder Woman is like, what Batman is like and what Spider-Man is like. And it's just kind of sad that the guy who contributed to a story about a man who was shocked into saying, "Oh my God, I should use my abilities to HELP OTHERS" came away with a mentality like the one Graine expresses here.
... Okay, I'm sorry about that. Back to the funny.
So, while all this "SMASH MR. A" stuff is going on, the hatesex bad guys have been using the priest for drug dropoffs under the guise of giving him charity (DO YOU SEE WHERE EMPATHY GETS YOU?) and basically ingratiating themselves into the businesspeople's lives, thus making them culpable when they fall and THIS IS WHY THE UN SUCKS, okay?
But of course, they haven't forgotten their true plan: fucking the shit out of each other. You can interpret that how you like: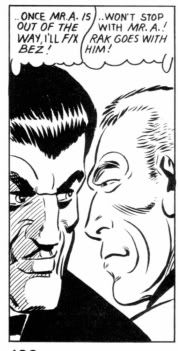 You know, I actually meant this as a joke when I first said it back there ... but I think I believe it now.
Graine will not allow this beautiful romance to continue, however.
You know where this is going ...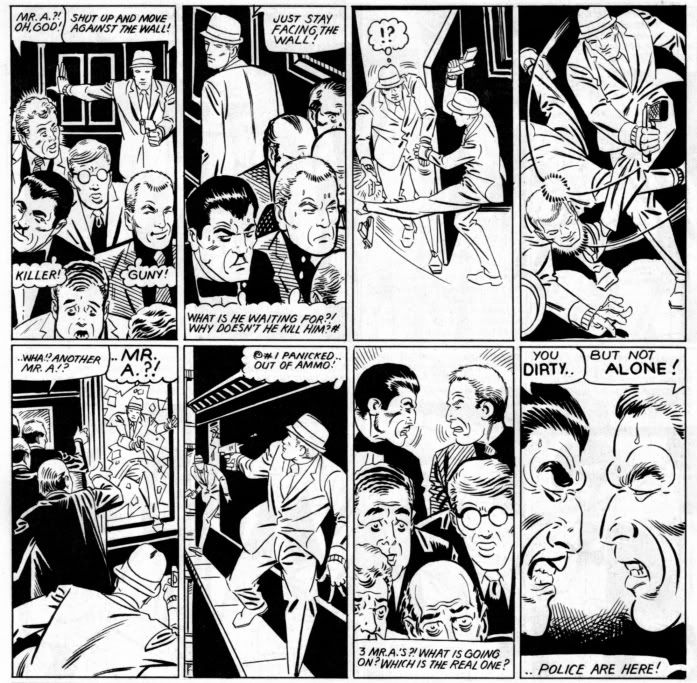 Ah, lovers' spats ...
The fight between the three Mr. As eventually comes to its conclusion, with the real Mr. A as the winner, which in turn leads to THIS panel sequence.
... Let's just move on.
You'd think the story would be over, but since Dumbass One and Dumbass Two haven't been caught yet we have a lot of panels where Feld turns into a rambling drunk who has lost faith in the world, and all the business people freak out because now they're all implicated in crimes.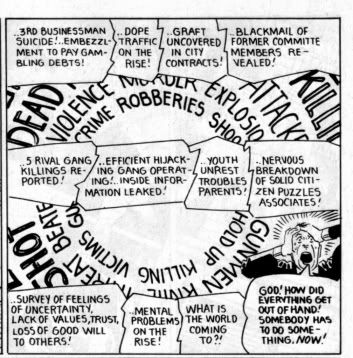 Anyway, Rex Graine then decides he's going to try to get the nitwits to kill themselves through the clever use of walking up to them and trash talking them.
Which makes me wonder where the hell they are that Graine can just be like, "S'up, I totally hate you and trash you to the press but you should really take my advice." Planet Nimrod strikes again.
So Graine gets them in a place where they're both ready to kill him, mostly because they hate his pretty
bathrobe
jacket.
He's okay, of course.
And then we end with all the characters hating Mr. A/Rex Graine in a thorough montage bitchfest. The end.
No, wait!
Hee-hee-hee. I love this shit.